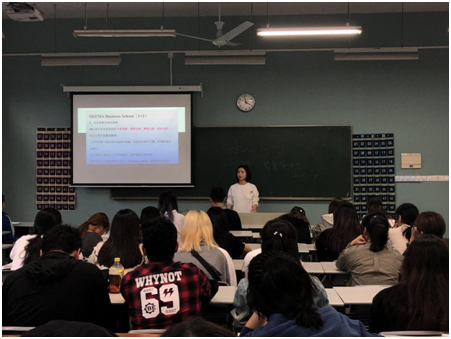 On October 8th and 9th, 2019, Miss. He, on behalf of SKEMA Business School and NEOMA Business School, two top business schools in France, came to our school to give lectures on application guidance for French students in our school of international exchange.
This lecture mainly involves three aspects: First, it introduces the overall advantages of the two business schools, admission requirements and the docking mechanism of the '3+2' undergraduate and postgraduate program between our school and two French universities; The second is to introduce the students can choose the major and go abroad need to prepare the application materials; The third is to answer for the students to go to France to study in some aspects of life confusion and study abroad safety notice.

SKEMA stands out in the QS global master of business ranking 2020 released by the global higher education research institute, ranking among the top 6 and 3 in France.
In 2020, NEOMA Business School of France won the 19th place in the world and the fourth place in France in the "Grande Ecole" (traditional elite high business program).
The lecture site, the scene of the students actively speak, actively ask questions, after the lecture, the present teachers and students conducted a warm and friendly atmosphere of exchange and interaction, everyone felt a lot of harvest.