Jose Luis, a foreign Spanish teacher from Autonomous University of Barcelona in Spain, started his one-month teaching in our school in early April. In order to enrich their amateur cultural life, enhance the understanding of Chinese history as well as local customs and practices, we specially made a two-day arrangement for foreign teacher to experience the Shanghai history, food and culture with excellent student representatives of our school. On the first day, after visiting Yu Garden, they felt the elegant, quiet and exquisitely carved classical garden on the Yangtze Delta. And also tasted the local dishes, specialty snacks. In the afternoon, student introduced the architectural style and historical background of the Exotic building clusters in the Bund of Shanghai to the foreign teacher in Spanish at the bund and felt the strong historical accumulation of Shanghai. At the end of the day, students took the foreign teacher to Tianzifang, in the noisy, crowded lane to visit the characteristics of Shanghai Shikumen architecture, tasting the old Shanghai lane culture, feeling the vitality of Shanghai.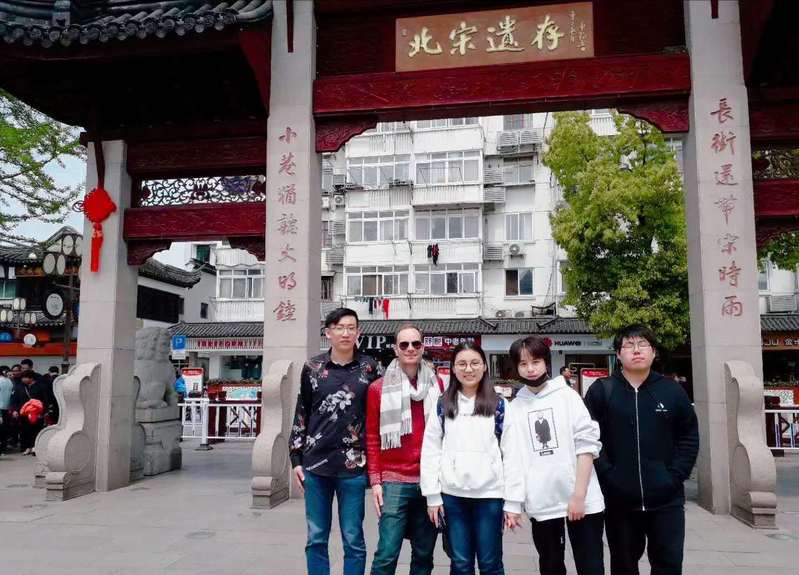 The next day, they went to Qibao, an ancient and historical town. The foreign teacher was extremely interested in the stone bridge and architectural features of the old street. so students introduced the "seven treasures". Besides, they visited the bell tower, the temple ,students also expounded Chinese "koi" culture to foreign teachers at the free life pound.
During lunch, we were pleasantly surprised to find that our foreign teacher was proficient in using chopsticks. He told us that he liked Chinese food very much and then we talked a lot about Chinese culture. To comparing the different cultural differences and similarities between China and the West, we found that the world has become a whole.
By totally using Spanish to communicate with foreign teacher, which not only exercises the listening level of Spanish, but also improves the ability of expression. Learning to apply is the ultimate goal of learning, otherwise, practice without talking is dumb. Only when we find our own shortcomings in the application can we lay the foundation for future learning. At the same time, we will improve our self-confidence and have more courage to persevere learning Spanish.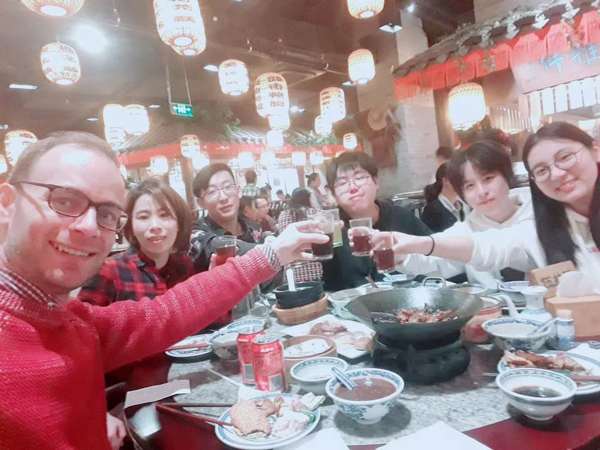 During the two-day trip, Jose Luis showed a strong interest in Chinese culture. He said that during this extremely fulfilling journey, the preparation and detailed introduction of students made him leave an excellent impression of Shanghai, an international metropolis full of vigor and variety.
Although everything was new to him first visit to China, the 2-day trip kept him fresh all the time. He is also looking forward to know more about Chinese culture and tasting more Chinese food in the free time.